Dear Family & Friends,
So far so good!
After a hectic one and a half days in Kathmandu we arrived in Namche yesterday morning after a quick 2 day trek from Lukla.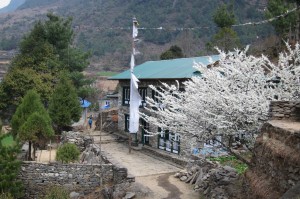 The bulk of our time in Kathmandu was spent packing and repacking the loads with all the equipment we need for the next couple of months, as well as picking up our custom made down suits, shopping for super duper high altitude mittens and various other bits and pieces, meeting with our local operator, buying extra high altitude food and most importantly enjoying some chilli momos and a San Miguel at the Radisson Splash Bar!
Our hotel room was a mess with stuff strewn everywhere and we both just sat there for a while not quite knowing where to begin….
We eventually divided the loads and packed 4 kitbags with some of our climbing gear and clothes for the trek to BC and the acclimatisation climb on Lobuche East.  Everything else (5 drums and 1 kitbag) is going straight to Everest BC and will hopefully be there when we arrive in a couple of weeks.
After 2 nights here in Namche we leave for the small Sherpa village of Pangpoche before continuing to Dingpoche for 2 nights; then its on to Lobuche village which will be our base while we ascend the 6000m peak of Lobuche East.  The plan is then to spend a night in Gorak Shep before arriving at Everest BC on the 9th of April.
The weather still feels a bit wintery and snow is falling steadily as I write this.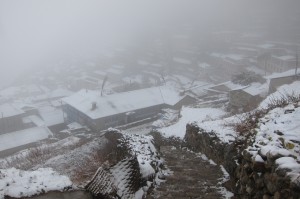 We're both feeling well and excited to be here. Life up here is pretty simple (eat , sleep, walk…..) and our biggest decisions are usually to do with food; Dal Bhat or Mixed Fried Rice, how many eggs to have in our breakkie omelettes and, considering todays weather, when to sample our first slice of apple pie.
Ciao for now,
Matt & Soren