Everest Base Camp at last!
We arrived here on the 7th after an easy 2 hours walk from Gorak Shep @ 5140m, the last cluster of lodges before EBC. It was our intention to update the blog from Gorak Shep, but we experienced some technical problems and it's taken a couple of days to set up the system here at EBC.
Since our last dispatch we've been busy but unfortunately our acclimatisation climb on Lobuche East didn't work out quite the way we'd planned…. (We'd hoped to spend at least one night camping close to the summit of Louche East @ approx 6000m, but…)
After 2 days in Lobuche village at the Alpine Inn we moved up to camp 1 on Lobuche East @ 5300m; pitched our 2 tents, settled in, got a brew going, ate some snacks, enjoyed the view, ate some more snacks, cooked freeze dried spag bowl for dinner and agreed we we're exceedingly happy to be up there.
Well things didn't exactly improve from then on!
A storm hit that evening (April 3rd) with lots of thunder, lightning and steady snowfall and we basically didn't move, except trying to get comfortable in our tents (+ filling & emptying our pee bottles), for the next 36 hours.
On the morning on the 5th, rather reluctantly due to the icy conditions, we decided to make the most of it and climbed to a ridge @ 5600m overlooking the Khumbu Glacier and, way in the distance, the tents at Everest Base Camp.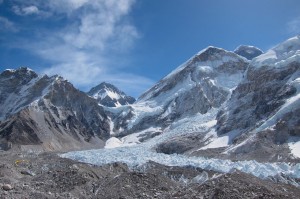 Descending back to C1 we packed up everything and hurried down the mountain to the comfort of the Alpine Inn; chips, buff meat balls and sweet nepali tea.
What a couple of heroes!
The setup here at EBC is fantastic and our BC operator, Himalayan Ascent, have done an amazing job ensuring our stay will be as comfortable as humanly possible – especially when you consider we're camping on a great big glacier @ 5350m!
Robin, now there's a traditional Newari name, is our BC cook and if he continues to dish up all this great food we'll find it difficult having to leave for our higher camps!
It's great to finally be here and a little hard to believe the tents we spotted from Lobuche East is now our home for the next 7 weeks.
It is with great sadness we inform you that our dear friend Ringi Norbu Sherpa died in a car accident outside Boudhanath in Kathmandu on Wednesday April 6th.
Our thoughts and prayers are very much with Ringi's wife Ang Dali, daughter Dolma and son Dawa, Ringi's business partner Sambu Tamang and all the staff at Himalayan Guiding Institute (formerly 'Sea to Summit').
We will miss you Ringi dai.
Matt & Soren